PRESS RELEASE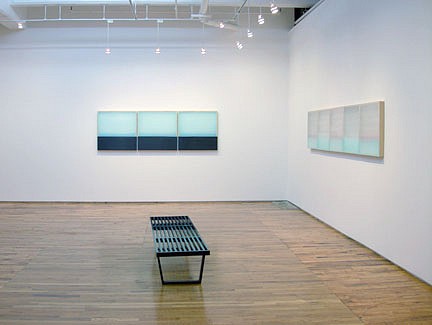 Hutchison's post-minimal constructions are composed of beeswax, pigment, Plexiglas and plywood. The translucent materials and the box-like structures endow the paintings with depth and vibrancy, while thin layers of wax and pigment, brushed uniformly on the surface, catalyze and diffuse the tempered light. The resulting impressionistic surfaces evoke emotional responses from the viewer, ranging from nostalgia to joy.

Inspired by media images of recent natural disasters, Hutchison's new work attempts to capture the dichotomy between the fatal and destructive power of earthly forces and their sublime beauty. The paintings are a voyage of reconciliation, an acceptance of the notion that the only constant in life is change. Hutchison writes, "For me the lesson learned is that we must live life with more pointed awareness, sharpening our senses and sharpening our sense of being. It is possible that things are just as clear at night as they are in the daylight."

Heather Hutchinson recently exhibited new work at the Samuel Dorsky Museum of Art in New Paltz, NY. Other exhibitions include the Brooklyn Museum of Art, the Museo d'Arte Contemporanea Pallazzo Penna, Perugia, Italy, and the Corcoran Biennial at the Corcoran Gallery of Art in Washington D.C.