PRESS RELEASE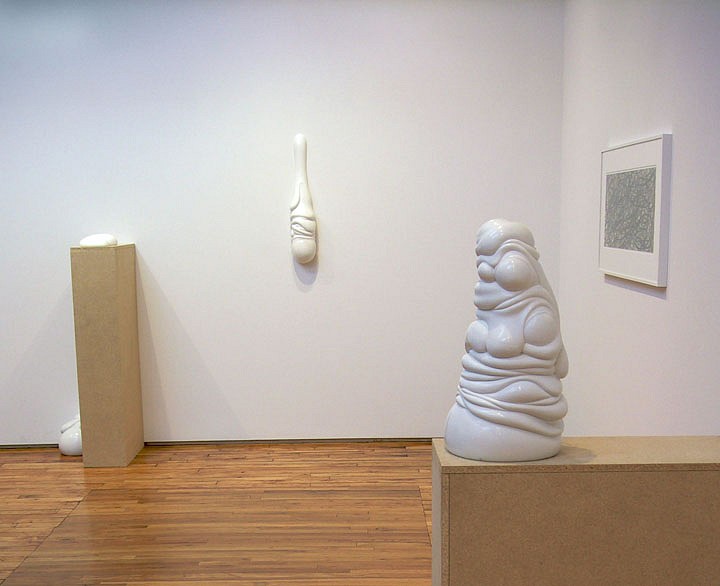 An exhibition of new work by Washington D.C.-based artist Adam Fowler and the German collaborative team Venske & Spänle.

Fowler's exquisite collage-like drawings materialize from divergent practices. Fowler begins by making gestural, unmeditated graphite drawings of circles and ellipses on lightweight archival paper. Then, in a painstaking fashion, he cuts along the meandering lines with a knife and removes the negative space. The resulting cut-outs have a delicate, web-like quality and are often combined in numerous layers to create dense and complex compositions.

Venske & Spänle, in their new series entitled Schrumpel, shape sensuous, biomorphic sculptures out of cold, unyielding blocks of purely white marble. The seemingly self-generative masses ooze, sag and fold over themselves, while the bulbous contours beg to be caressed. Each form, exhibiting a distinct, quasi-human personality, appears to be on the verge of erupting and transmuting.

Adam Fowler's drawings were included in the Fall Selection show at the Drawing Center in SoHo. He has also exhibited work at the Gallery at FlashPoint and the Washington Project for the Arts/Corcoran, both in Washington D.C. Venske & Spänle, who began collaborating in 1997, have exhibited sculptures and installations in venues across the world, including Japan, Australia, and Argentina. In 2003, they received a grant from the Socrates Sculpture Park in Long Island City to create a large-scale yard installation.