PRESS RELEASE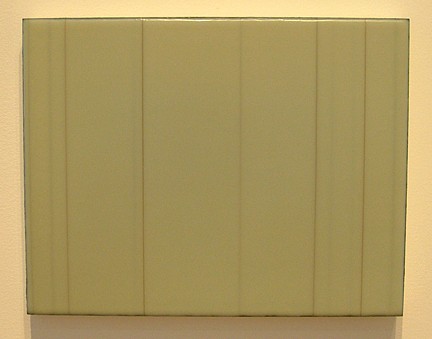 Powers employs common materials like Elmer's glue, horsehair and pencil to create creamy, translucent paintings. His interest lies in exploring and stretching the usual methods and materials for making art. The material choices reflect the artist's preoccupation with using organic living matter to make his paintings. Looping lines are drawn with graphite or by collaging strands of hair across and through the multiple layers of poured glue. As each layer dries the imbedded layers below become faint, giving the paintings spatial depth. There are often twenty or more layers applied, drying to a softly glowing surface. Powers' goals are direct and unaffected. However, one cannot avoid wondering about the irony of his choices, given that rendered horses have a history as a key ingredient in all glues.

Powers' compositions reference earlier generations of abstract artists such as Jackson Pollock, Brice Marden and Ross Bleckner. The works are spare and contemplative. The quirk is in how he achieves the compositions. The artist has used woolly mammoth hair, hair of friends and relatives, and horsehair procured from his collectors who ride. In those choices, Powers moves into the realm of Dadaist performance. In that twist, the paintings become unique and of the moment.

Jerome Powers' paintings were recently included in a group show, entitled Extreme Materials, at the University of Rochester's Memorial Art Gallery. Powers exhibits regularly across the United States, and in 2003 he had a solo exhibition in Sao Paolo, Brazil.