PRESS RELEASE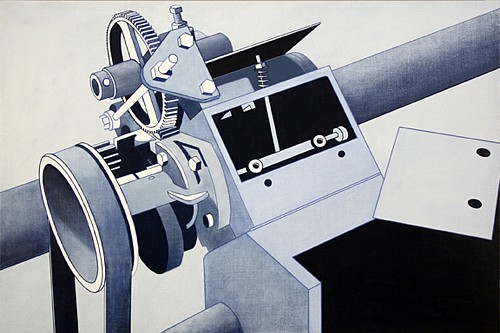 William Steiger's subject matter is icons of the American landscape, including grain elevators, tramways, railroad cars, roller coasters and ferris wheels. A Steiger painting is never populated, focusing rather on the chiseled geometry of these recognizable structures of 20th century ideology. The reduced forms offer neither a romantic modernist view, nor an ironic look at a lapsed technology. There are elements of the stark photographs of Bernd and Hilla Becher in the deadpan approach, but Steiger bathes his structures in a background palette of subdued industrial tones, giving the works a soothing, seductive aura. The combination of the muted atmosphere, the graphic style and the undefined and, therefore, limitless space of these works implies endless narrative without supplying story line.

Steiger is able to push his paintings to a new conceptual level by employing a repertoire of recognizable images. The structures depicted are often compilations of various forms altered to accomplish the compositional goals of the artist. The removal of naturalistic elements, a shadow or a horizon line for example, and the recent inclusion of brighter hues, test the boundaries of visual recognition.

William Steiger received an M.F.A in painting from Yale University in 1989. His works have been shown extensively in the United States, and included in exhibitions in Europe and Korea. Pace Editions recently published a new print by the artist. His works can be found in the permanent collections of The Metropolitan Museum of Art, the Whitney Museum of American Art, MoMA, as well as many prominent corporate and private collections. This is Steiger's sixth solo exhibition at Margaret Thatcher Projects.