PRESS RELEASE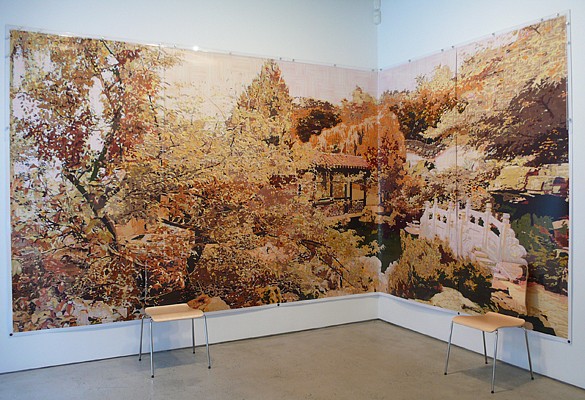 In an immersive, unashamedly beautiful work that pays playful homage to Gilbert & George's 1973 sylvan masterpiece "The Shrubberies", the Australian artist Gary Carsley modestly provides a chair in Chelsea upon which one can simultaneously be "with" and "in" art. Contrasting the international pictorial vocabulary of the Chinese Garden with that of another international system of signification – IKEA furniture, sections of D.95 Synthetic Landscape Number 1* are being shown concurrently in New York and Shanghai. At Margaret Thatcher Projects the image seamlessly mashes together the 21st century Chinese Scholars Garden on Staten Island with the 400-year-old Yuyuan Garden in Shanghai. fiction_non_fiction gently cajoles the viewer into trying to distinguish between the real and the copy. Above all it asks if terms like "original" and "authentic" have any residual validity, and if so what cultural and material value can be attributed to them, by whom, in what context and when.
In a technical process Carsley clarifies with the term Karaoke'ing, the Photograph, the artist slyly displaces photography's indexical authority with a palette of scanned in faux wood grain contact adhesive papers, of the type used domestically in homes all over the world. Similarly, the artist often uses furniture as a substrate for his work, while referencing popular entertainment activities such as drag and karaoke, not literally as actions but as modes of translation and by extension critical and creative authorship.
His current exhibition at Thatcher Projects links culture and nature in the site of the Garden, presented here as both subject and object. Carsley gently draws attention to the garden's rhetorical and theatrical dimensions, an exercise in place making and a repository of social and economic history. Depicting the garden not just as botanical theatre but also a stage for human activity and cultural memory. Representationally speaking, gardens are simultaneously fictional and non-fictional sites and sights of display. A conflation of terms materialized in the folded corner space of Thatcher Projects, where the viewer is at the same time external and internal to the work.
Gary Carsley's large-scale photographic monoprints or Draguerreotypes have been shown most recently in "Wonder" the second Singapore Biennale, 2008 (Artist Director Fumio Nanjo) and Metaphors of the (un)Real 2009- 2010 at Musuem of Contemporary Art, Shanghai. (Curator Victoria Lu).

*D.95 Synthetic Landscape Number 1 is a "composite" landscape in the traditon of Frederic Edwin Church. It synthesizes views of the contemporary Chinese gardens of New York, Berlin, Hong Kong, Singapore and Sydney with those of China, principally the classical gardens of Suzhou and Shanghai.