PRESS RELEASE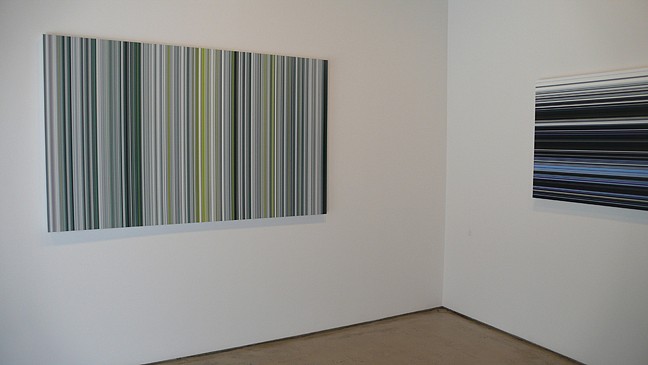 Whether producing what the artist refers to as his "line" paintings or appropriating surveillance imagery, William Betts has carved out a reputation for himself as an artist using digital technology and industrial processes to produce paintings that are both visually captivating and technically innovative. Quoting from Claudia Schmuckli's text from a 2008 Blaffer Gallery catalog: "Unlike other artists of his generation who have incorporated painting machines into their work to signal their critical or ironic engagement with the history of the medium and the role of the artist, Betts embraces the machine as the only tool that will produce the aesthetic and quantitative results he is after."
Betts typically creates the line paintings as a series based on a place and time. The abstract retina-challenging paintings included in this exhibition have specific meaning to the artist who states: "The source for the images was an area of forest in Idaho that had been devastated by a horrific fire which destroyed thousands upon thousands of acres. The images were extremely stark and beautiful, and I think the paintings coming from that experience are really compelling."
Also in this exhibit is a new series of mirror paintings that explore infidelity -- a hot topic in recent tabloids. Betts has developed a process whereby he drills tiny holes into the back of acrylic mirrors and fills the holes with paint to create pixelated, colorful works. The process is exacting and innovative, both qualities the artist enjoys. It is a perfect medium for the imagery, engaging the viewer in a narrative and reflecting the viewer as participant.