PRESS RELEASE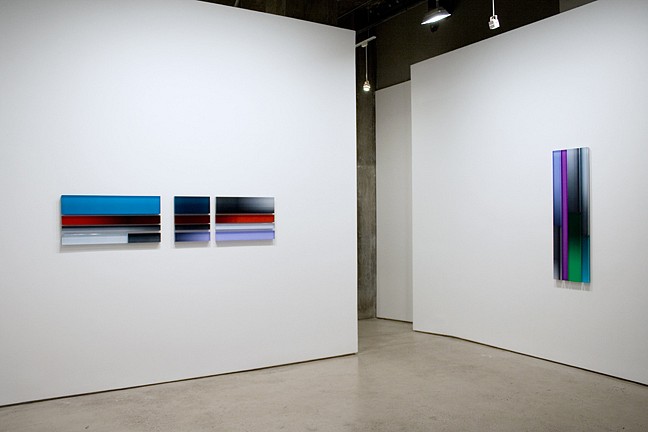 Constructed of luminously painted bars of cast acrylic, Freddy Chandra's work invites the viewer into a seamlessly crafted sensational experience. Working within the confines of a logical structure, color is drawn across the surface of the bars in such a way as to create an illusion of depth and an inner light that lend the pieces a lyrical flow. Though static, the pieces imply movement as the colors vibrate off one another, and the bars engage with the negative space of the wall that drifts between them. External space punctuates and disrupts the internal space of the work, and a rhythm is formed as presence relates to absence. This combination of structured form and fluid gesture raises the question: is one viewing an image, or an object?
Chandra, whose background in architecture strongly informs his work, views his process as one that is brought to fruition through a unique method of drawing-based mark making, rather than painting. In a recent
interview
with Brent Hallard for Visual Discrepancies, the artist states, "Although my current work is usually referred to as paintings, I often feel they are more about drawing. Yes, they are obviously painted. Yes, my use of color recalls that of color field painting. But the work comes together through the physical process of drawing: pulling a mark across space. In this case, I am making a distinction between making a mark in painting, and making a mark in drawing. I think that mark making in drawing is about marking space, and marking time. The clarity of the structure itself and the rhythm it creates are important in relation to the resulting experiential quality."
Though the work possesses a seemingly manufactured quality that recalls the streamlined forms of Judd or Flavin, it has an inherent painterliness to it that separates itself from the ranks of the industrial-cast forms. "I want to make something that does not look like it's been made," the artist explains. Furthering the distance from industrial form, Chandra created a series of vertical works for this exhibition that reflect on the human figure in size and scale.
Freddy Chandra studied Architecture and Art Practice at the University of California at Berkeley, and obtained his M.F.A in Studio Art from Mills College in Oakland where he is currently an adjunct faculty member. He is a recipient of a 2009 Joan Mitchell Foundation Painters and Sculptors Grant, and has been awarded various residencies and fellowships throughout the United States. He regularly exhibits work in the US, Canada, Germany and Italy. As a recent addition to Thatcher Projects' program, this is the artist's first solo show with the gallery.