PRESS RELEASE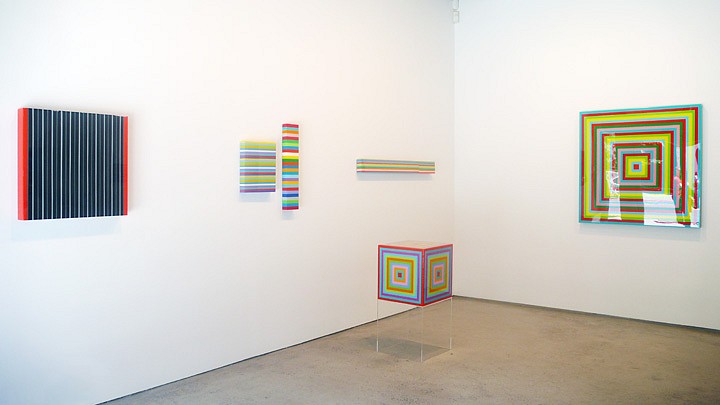 Margaret Thatcher Projects is pleased to present Disco Lemonade, a solo exhibition of new paintings and sculptures by Canadian artist, Heidi Spector. This is the artist's first solo exhibition in New York and follows a small installation of her works last year at the gallery in the project room. Her paintings, composed of liquitex acrylic painted as bands of color on Russian birch, are topped with resin, creating a surface where candy-like colors pulse and dance together, alluding to the impact of popular music on her work.

Referred to by the artist as "geometric minimalism," Spector purposefully avoids injecting specific emotional content to her paintings, instead opting for bold color choices that quickly establish an upbeat and lively mood. Her shining repetitive pattern of vertical or horizontal stripes project a natural sense of optimism and joy informed by the techno beats and self-absorption of club life.

Many of the paintings on view are influenced by popular music, taking on titles based on song lyrics by artists as varied as Duke Ellington, Roxy Music, Amy Winehouse and DJ Tiesto. The color palette of each painting is in part a response to each song, infusing the group of works with the sensation of being an audio/visual playlist.

The geometric opticality and slick surfaces of Spector's paintings connect her works with a tradition of hard–edge painters, such as Bridget Riley and Frank Stella. Her vision of the paintings as objects of desire and joy, however, also place Spector's work alongside contemporary pop artists embracing kitsch as profound.

Heidi Spector currently lives and works in Montreal, Canada. She has shown in galleries nationally and internationally, including exhibitions in Montreal, Los Angeles, and New York.