PRESS RELEASE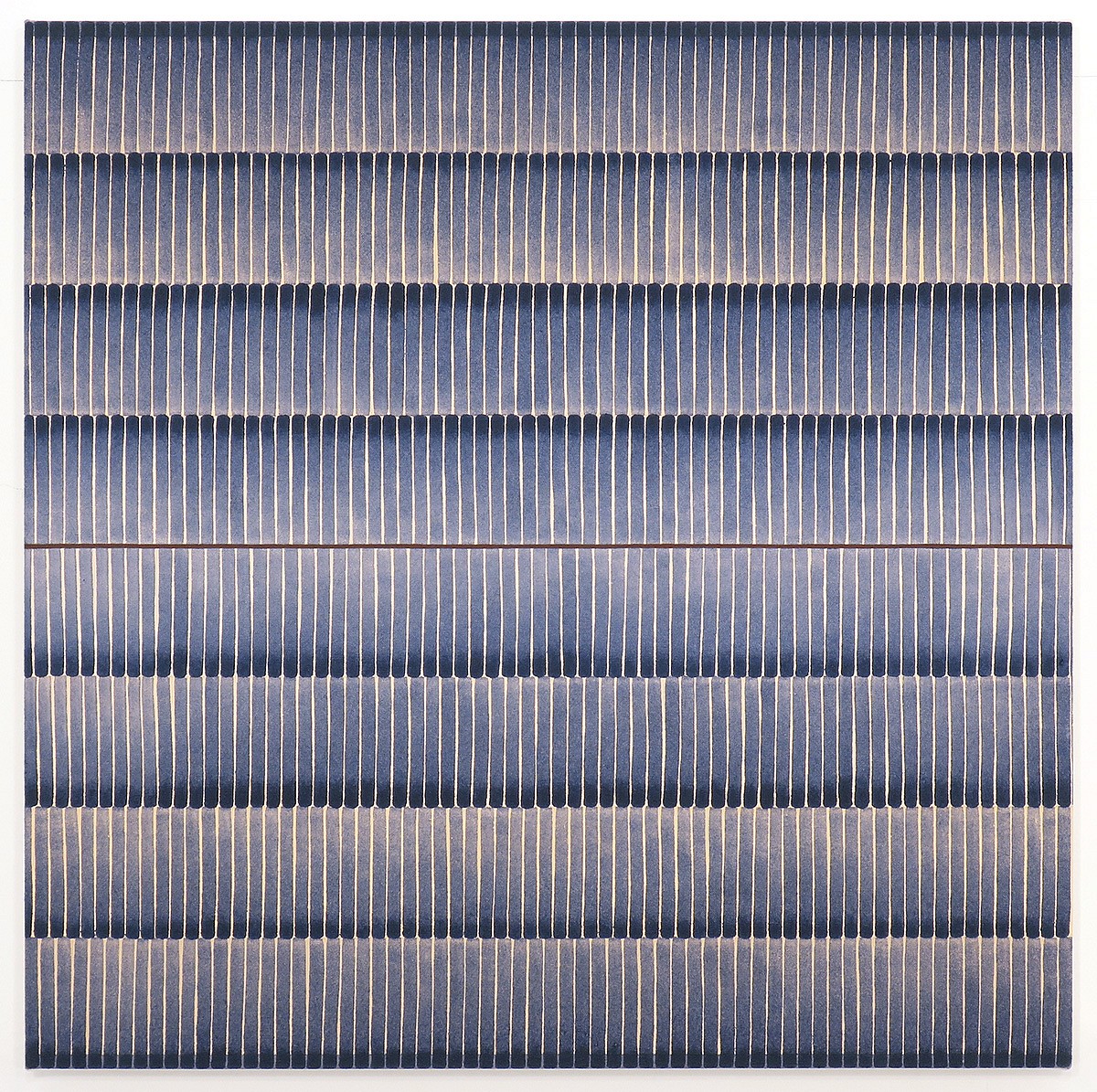 Margaret Thatcher Projects is pleased to present Luminous Now, an exhibition of abstract paintings by Anna Bogatin Ott, the artist's first solo show at the gallery. The exhibition will open on Thursday, June 16, with a reception for the artist from 6 to 8 pm, and continue through Saturday, July 23, 2022.
Anna Bogatin Ott's meditative, grid-based paintings refer to the beauty and underlying balance found in nature. Though she creates images in several modes, Bogatin Ott begins these acrylic-on-canvas works with direct observation of the surrounding environment, including the sky, the surface of water, and flora. In each painting, she interprets a particular element of the natural world into an orderly series of repeated brushstrokes which fill the canvas. The individual brushstrokes, two or three inches long apiece, are set side-by-side in parallel rows extending out symmetrically from a central horizontal line. The composition is bisected, with either a subtle or, on occasion, more noticeable tonal gradation from the center to the edges. Each luminous canvas contains a predominant hue — a jewel-like blue or green, an autumnal orange or red — carefully selected for its emotional impact­­. Slight gaps between the brushstrokes reveal a glowing background containing a second, harmonious color that adds depth, richness and contrast.
Bogatin Ott's use of evocative colors and measured gestures invites a quiet, contemplative viewing of her work. This relates to the artist's practice of various meditation techniques, which is reflected in her paintings via carefully structured space, transitory light and a rhythmic progression of marks. A tempo emerges as brushstrokes appear to move toward or away from the central focus. There is a simultaneous sense of the present moment and the passage of time. Each handmade mark, though nearly identical to all the others, becomes a discrete element within a boundless, illuminated expanse. Seeking to uncover the hidden harmony of natural phenomena around us, Bogatin Ott writes of her art, "I am looking for structure, for balance; I am looking for the unexpected and hoping for magic."
Anna Bogatin Ott is an American artist living and working in Philadelphia, PA. She was born in Ukraine in 1970, and prior to coming to the United States in 1992, has lived in Russia, the Republic of Georgia, Ukraine and Poland. After a traditional arts education in Russia, she earned a BFA from the University of the Arts, Philadelphia, and an MFA from the San Francisco Art Institute. Her work has been included in solo and group exhibitions throughout the United States and internationally since the early 2000s. Her work is in numerous private and public collections, including the Gregory Allicar Museum of Art, Fort Collins, CO; the Georgia Museum of Art, Athens, GA; and the Pennsylvania Academy of Fine Arts, Philadelphia.