PRESS RELEASE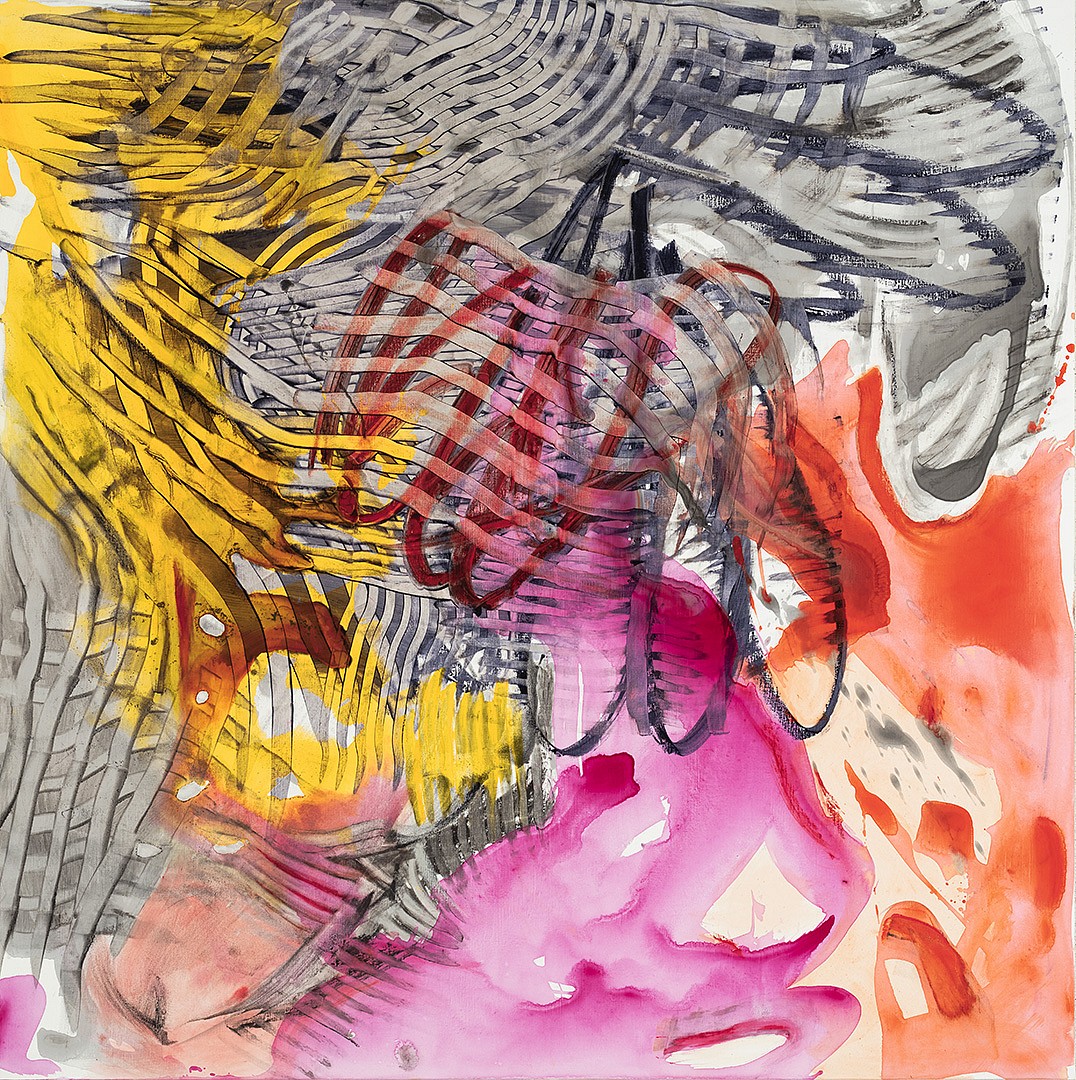 Margaret Thatcher Projects is pleased to present the gallery's first solo exhibition by artist Linda Schrank. Swoop, curated by Fran Kaufman, features paintings from the artist's two most recent bodies of work.
Swoop is defined as moving gracefully and easily through the air, an apt reference for these paintings whose swirling marks create a world filled with space, light and brilliant color. Schrank has often used the phrase "breathing made visible", which continues to describe the sense of animation in these paintings. Looking at these works is a complex visual experience: we are immediately seduced by her joyous palette and quirky juxtapositions of color, inviting our entry. We feel the movement of her hand in the visual configuration of large looping marks, skeins of color made with oilstick drawn on a layered ground carefully balanced between open spaces, grey-white webs and pools of pinks, oranges and reds. Each mark engages the surface with gesture and movement, inviting our contemplation of these unexpected shifts of shape, mark and material. Both series, beginning with House on Fire and followed by Swoop, were created over the past couple of years when we were all dealing with a complex range of new events that were both universal and intensely personal. Schrank has emerged from this isolation with a thoughtful yet exuberant response to her experience.
Linda Schrank lives and works in New York City and Tuscany. She has exhibited nationally and internationally since 1978, including solo exhibitions at Spazio E_EMME, Sardinia; The Piero della Francesca Foundation, Sansepolcro, Italy; Rosenberg + Kaufman Fine Art, NYC; Columbia University; Brown University; Pratt Institute; the Etruscan Museum, Cortona, Italy; Gallery Spazio Imago, Arezzo, Italy; Galleria Peccolo, Livorno, Italy; and Palazzo Costa, Mantua, Italy as well as more than 70 group shows. and will be featured in the upcoming exhibition Wit and Rigor at 1GAP Gallery in Brooklyn. Her work is included in major private, corporate and public collections, among them the Brooklyn Museum; Museum of Fine Arts, Boston; Boston Public Library; Harvard University; Library of Congress; Rose Art Museum, Brandeis University; Princeton University; Minneapolis Institute of Arts; Museum of Ceramics,Torgiano, Italy; Museo Regionale della Ceramica, Deruta, Italy; Pratt Institute; American University, Washington, DC ; The International Museum of the Woman in Art, Abruzzo, Italy; The Morgan Library and Museum; The New York Public Library; University of Houston; and Smith College Museum of Art.
Fran Kaufman is a New York based curator and a partner in Kaufman Vardy Projects. She has completed numerous curatorial projects in the US, Latin America and Europe, and has worked with various art fairs and institutions including the Warhol Museum in Pittsburgh. She frequently writes about art and participates in panels and artist interviews. Her next project, Wit and Rigor, is opening in Brooklyn in April.