PRESS RELEASE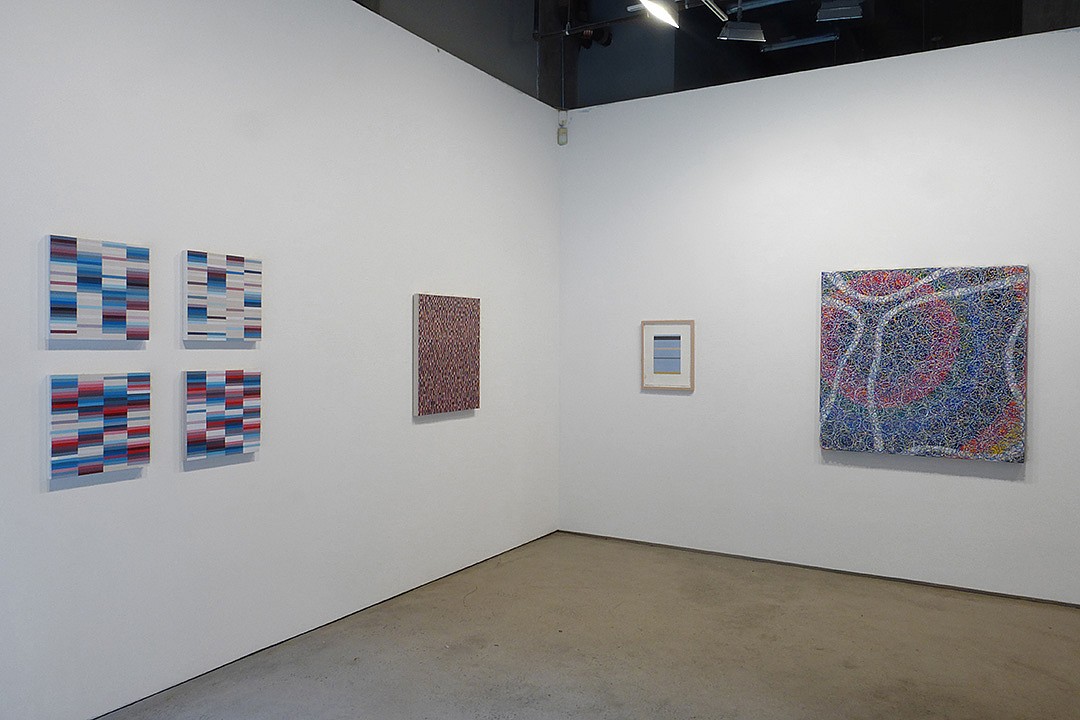 Margaret Thatcher Projects
is pleased to present
Shift 2021
,
a group exhibition featuring the work of Frank Badur, Omar Chacón, Nobu Fukui, and Cheonae Kim. The exhibition will be on view from January 28 to February 27, 2021.
Abstraction offers a space to rest, imagine, and foster hope. The paintings and drawings in
Shift 2021
invite viewers to pause and focus on compositions that are both meditative and exuberant. In all the work, underlying structure is enlivened by an evocative use of color and a departure from strict geometry.
The colors in Frank Badur's drawings are reminiscent of the light greens, yellows, blues, and oranges of graph paper or legal pads. Atop a rectangular field of color, Badur applies horizontal bars of black or complimentary-colored gouache at right angles to the edges of the paper. The thickness of the bars is seemingly defined by a grid overlaying the colorful field. However, instead of strictly ruled graph paper, the linear elements are actually hand-drawn pencil marks that waver and overlap slightly.
Omar Chacón
creates lush, intricate collages of paint. The textured surfaces of his paintings are made from many small tiles or drips of striated, richly colored acrylic. He affixes these elements next to one another to form a dense, yet harmonious, overall effect. Each drip or tile is unique in its vivid, streaming hues, but the affinities they share suggest the interdependence of individuals within a larger community.
Nobu Fukui's
energetic mixed-media paintings are densely layered with intersecting, sharp-edged circles floating above large, gestural ribbons of vibrant color. The surfaces are peppered with translucent, multi-colored plastic beads, each topped with a dot of white paint. The sides of each Fukui painting reveal another layer: collaged newspaper articles and images are the substrate over which the paint and beads have been applied.
In
Cheonae Kim's
flashe-on-panel paintings, delicate pencil lines define four columns of horizontal rectangular cells. The cells are irregularly filled with varied shades of blue, burgundy, pink or white paint, with some unpainted cells revealing the wood tone of the underlying panel. In each painting, the rows of the two left columns do not align exactly with the rows of the two right columns. This slight visual jog, as well as a light paint application, adds buoyancy to the rectilinear composition.