PRESS RELEASE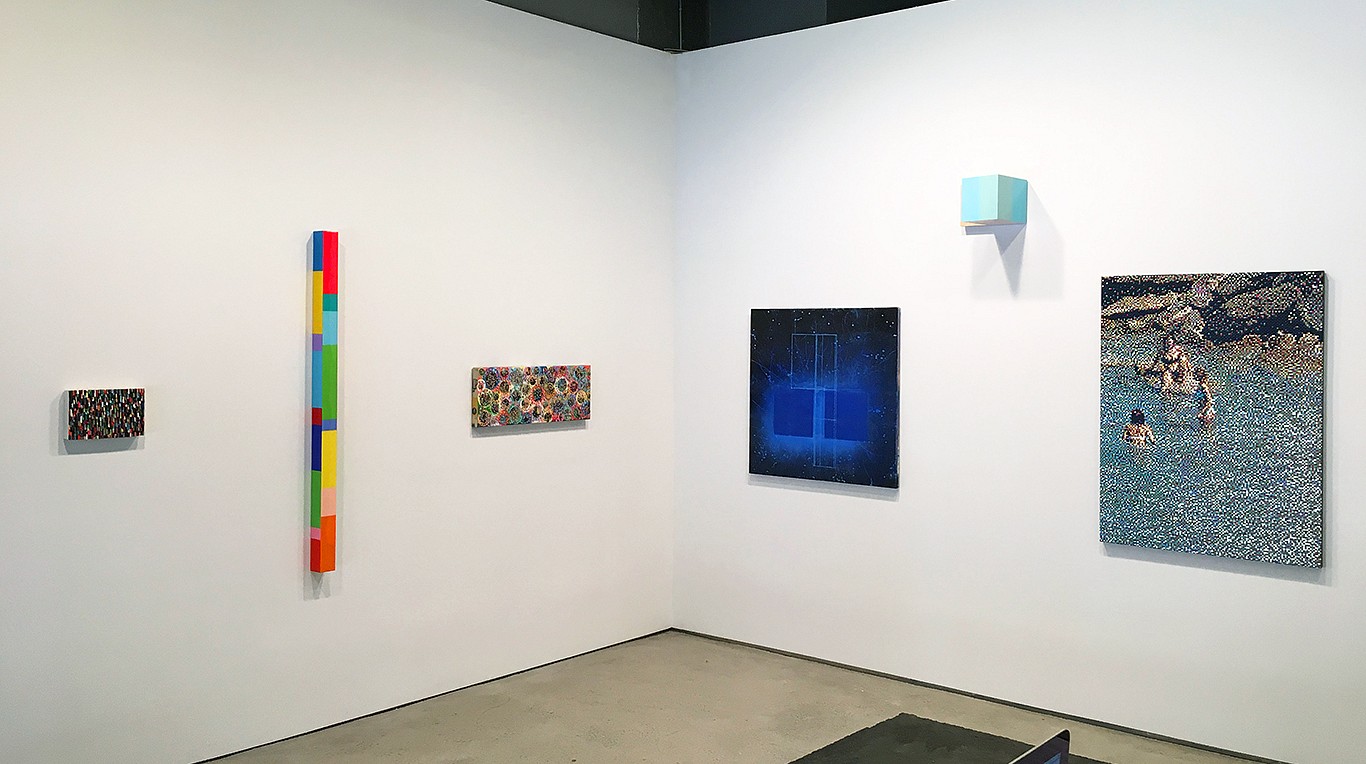 Margaret Thatcher Projects is pleased to present Future Tense, a group exhibition highlighting the process-based abstract work of a selection of gallery represented and invited artists. The summer season exhibition always offers the occasion to reflect on the year's exhibitions and to especially acknowledge the hard work and commitment of the artists with whom we engage. It also is a time to reflect on the evolution of the program, and also of the Chelsea neighborhood that has been our home for twenty years (ten at our present location). So many of our peers have succumbed to a changing market or altered their way of continuing, but with a new model.
We will announce in the coming weeks that we too must find a new home and a revised model with which to move forward. West 23rd Street, perhaps never the perfect home of galleries, is changing once again. With the opening of the new Hudson Yards complex, and the ceaseless development surrounding us, our landlords, The Related Companies, have determined that 23rd Street should become a commercial corridor, and have asked their gallery tenants to move on in the next several months.
Stay tuned for our new location.
Michelle Benoit's work captures isolated moments in time, space and place. She uses transparent lucite and coded color combinations to illustrate the idea and urgency of capturing a moment in time. Benoit's work has been shown both nationally and internationally including the Bristol Art Museum in Rhode Island, and The Stephen McLaughlan Gallery Melbourne, AU, among others.
Omar Chacon's layering and collaging of acrylic dots and drips on canvas is more than a visual strategy for making a painting. Each gesture conceptually counts as a unique individual in a large and diverse community, each reliant on the other to flourish. Omar Chacon was born in Bogota, Colombia. He received his MFA from the San Francisco Art Institute, CA and his BFA from the Ringling College of Art and Design, FL. His work has been exhibited nationally and internationally in cities such as Los Angeles, Milan, San Franciso and Mexico City.
Influenced by popular music, many of Heidi Spector's works take on titles based on song lyrics by varied musicians such as Linkin Park, Pink Martini, New Order, Maria Callas, Muse and Joni Mitchell. Spector's works are composed of acrylic painted bands of color on birch panels, cubes, and columns, meticulously coated with multiple layers of resin, creating a surface where candy-like colors pulse and dance together. Heidi Spector lives and works in Montreal, Canada. She has exhibited in galleries nationally and internationally, including exhibitions in Montreal, London, Paris, Los Angeles, Houston and New York.
Nobu Fukui's paintings are marked by a combination of improvisational painterly abstraction with elements of collage and mixed media. This culminates into captivating surfaces that may be read as performative action paintings with a Gutai affinity, or at a closer vantage point, Pop Art suggestive of a narrative. Nobu Fukui was born in Tokyo, and came to New York from Japan in 1963. Fukui has exhibited widely across the United States and Asia, and is in several public collections including that of the New Britain Museum Of American Art, The Indianapolis Museum Of Art, The Kyoto National Museum Of Modern Art and The Tokyo Museum Of Modern Art.
David Mann's work captures a precise yet ambiguous moment. At first, the eye is drawn in to a distinctive source of inner light, where layers of acrylic, oil and translucent glazes are prudently positioned to achieve incandescence. Manipulated by the use of mineral spirits, a solvent that reacts with the layers to form bubbles, the works incorporate a dimension that is unrestrained. David Mann is an American artist living and working in Brooklyn, New York. His paintings have been exhibited throughout the United States and Canada, including The American Academy of Arts and Letters, Midland Center for the Arts, the Flaten Art Museum, Northfield, MN, and the National Academy of Sciences, Washington, DC.
Kevin Finklea's contemporary color field paintings exemplify his belief that the simplest gesture is sometimes the best. Using rare pigments, he exploits their tonal interactions, highlighting the ways in which the interplay of specifically selected colors affects the viewer experience. The often-subtle color value variations in his works force the viewer to challenge their preconceived notions of color theory and the commonplace visual aesthetics in our daily lives. Finklea has been exhibited nationally and internationally, with shows in Philadelphia, New York, London, Zurich and Melbourne. He currently lives and works in Philadelphia, PA.
Captivated by the structural components of images, William Betts re-contextualizes them through enhancing pixel components, digital artifacts and simplified colors; then, the artist programs a CNC (Computerized Numerical Control) machine to apply single drops of acrylic paint to canvas. His finished paintings illuminate an intersection between landscape painting and the photographic source material, both traditionally having disparate intentions and viewing experiences. William Betts received a B.A. in Studio Fine Art from Arizona State University in 1991. Betts has been a recipient of numerous grants, fellowships, and awards. He currently lives and works in Miami, FL.
Through her paintings, Maria Park seeks to address the tension between image and experience, considering projection and expectation as contributed by the viewer. The artist's works focus on how popular culture, via film, Internet, print media, and more, mediates our perception of the world. Maria Park (b. 1972 Munich) is an Associate Professor at Cornell University, Ithaca, New York. She received her BFA in 1995 and MFA in painting in 2003 from the San Francisco Art Institute. Her work has been exhibited extensively, both nationally and internationally, and it is featured in numerous collections including Fidelity Investments and the Johns Hopkins Hospital, where she completed a site-specific permanent installation in 2012.
Taking visual and conceptual inspiration from the realms of sci-fi, cartoon animation and an innate sense of playful humor, the Munich-based duo, Venske & Spänle are deeply interested in the interaction between sculpture, place, and viewer. Venske & Spänle is the moniker for the artists Julia Venske (b.1971, Berlin) and Gregor Spänle (b. 1969, Munich). The artists live and work in Munich, and have exhibited their work worldwide in North and South America, Europe, Asia, Australia, and Africa.
From meticulously rendered paintings to layered mixed media collages, William Steiger continues his exploration of the structural world and delves into the inner workings of his iconic landscape narratives. William Steiger received a B.A. in Art from the University of California, Santa Cruz and an M.F.A. in painting from Yale University in 1989. His work is included in numerous private, public and corporate collections. Steiger has had more than 35 solo exhibitions worldwide including New York, Seoul and Tokyo. The artist currently lives and works in New York City.
Vadim Katznelson creates a flurry of patterns of color and form that recall the bursting open of blossoms vibrating in the open air. Katznelson's paintings are formed by the artist's shaping of globules of acrylic and resin that he coaxes through mesh canvas. The color is pressed through in controlled waves of saturated hues forming puffs. Each is set alongside another, making up a grid of ruptured forms cracking open to reveal layers and layers of the history of their making.
Data artist, Laurie Frick envisions a time when personal data is a peek into our unique identity and just possibly a glimpse into our future. The constant data collection on our lives, from iPhone usage to subway card swipes, transforms into portraiture through Frick's text and data-based art. Her work has been exhibited nationally and internationally. She has completed several major permanent installations across the US.
On view in our project space, multimedia artist Brice Brown has created a collaborative installation entitled, I Looked Down I Realized I Had A Body, which is composed of a three-chanel video installation featuring a performance by Gino Grenek –a dancer for Stephen Petronio Dance Company – and sculptural elements that reference themes inspired by Yukio Mishima's novel, The Temple of the Golden Pavillion.