PRESS RELEASE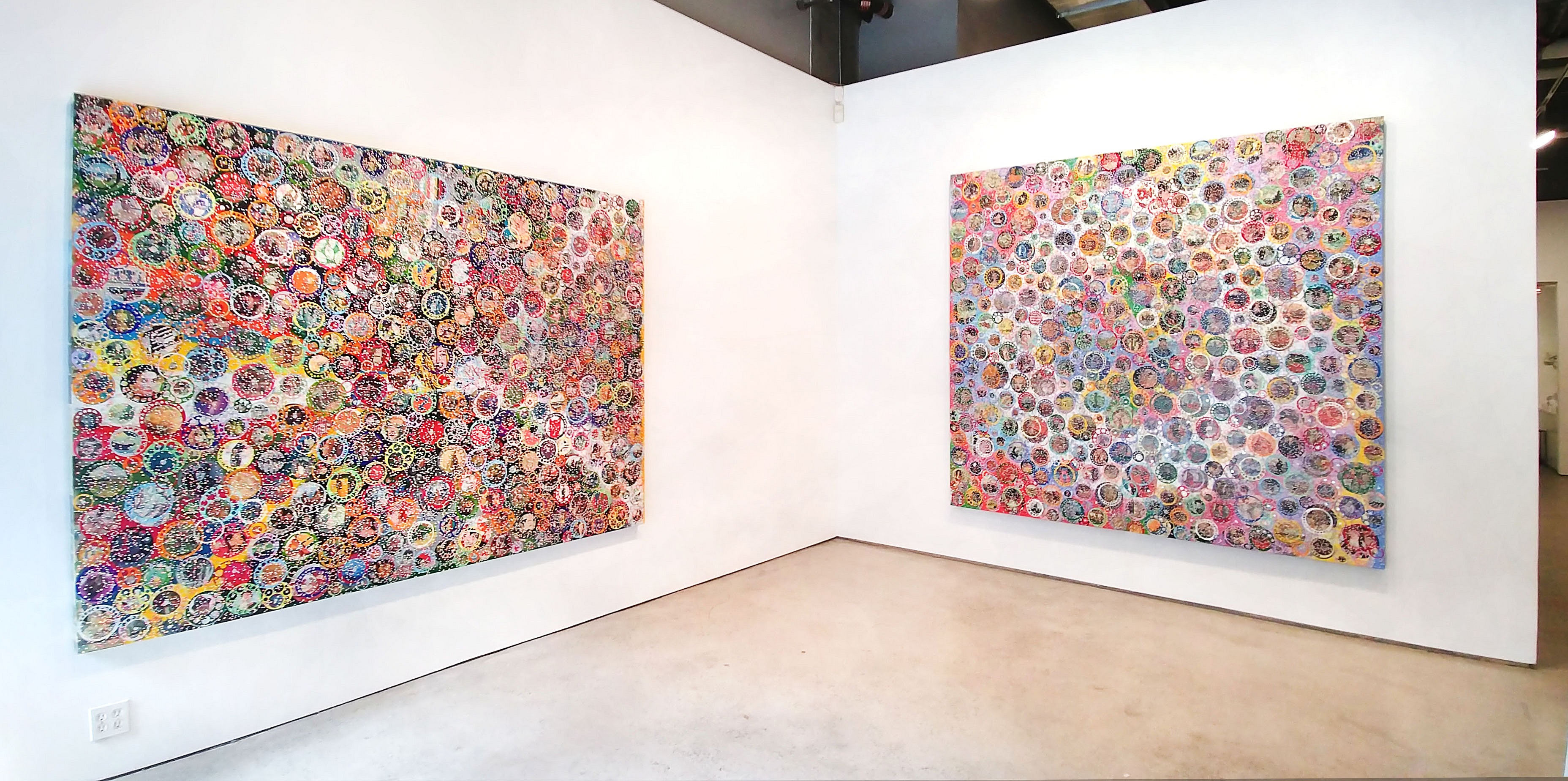 Click here to view Fukui's creative process.
Click here to view Fukui's online catalogue.


Margaret Thatcher Projects is excited to present Nobu Fukui's second solo exhibition, Paradise. This exhibition focuses on a carefully curated selection of large-scaled works created over the last two years. A catalogue with an essay written by Joanne Mattera, includes paintings presented and others from the series. The catalogue is available through the gallery.

Fukui's paintings are marked by a combination of improvisational painterly abstraction with elements of collage and mixed media. This culminates into captivating surfaces that may be read as performative action paintings with a Gutai affinity, or at a closer vantage point, Pop Art suggestive of a narrative.

The paintings provide a kaleidoscopic, cross-cultural experience, with Fukui clipping images from American comics or Japanese manga as readily as he would from fine art magazines, appropriating the iconic imagery of action heroes, famous artworks, celebrities and political figures. The artist rejects the Pop alignment or the idea of a narrative, instead insisting his works are purely experiential, and that any stories the paintings tell are in the eyes and minds of the viewers.
Each work is approached anew by Fukui. Color is applied with abandon on top of an arbitrarily selected newsprint; the images are chosen; painted cut discs of paper roll across the surfaces; and beads, scattered as if seed, adorn each work. The resulting paintings sparkle with vitality, and an embrace of the velocity of information to which we as a society have grown increasingly accustomed.
From an interview in Tilted Arc in 2015 we get some insight into Fukui's intuitive means of creating his paintings. "In 2009, my son viewed a BBC program called "Planet Earth". The opening scene of a satellite view of a flock of birds covering land and water struck me, and I watched the scene over and over again. I wanted to capture the beauty of the scene on canvas in some way. I happened to have a bag of small imitation pearls, and glued them on the painted newspaper on canvas. That was the beginning of the current series of my paintings."

Nobu Fukui was born in Tokyo, and came to New York from Japan in 1963. He continues to live and work in New York. Fukui has exhibited widely across the United States and Asia, and is in several public collections including that of the New Britain Museum Of American Art, The Indianapolis Museum Of Art, The Kyoto National Museum Of Modern Art and The Tokyo Museum Of Modern Art. Reviews of Fukui's paintings over the years are numerous, appearing in The New York Times, Art in America, Art News and several others.