BIOGRAPHY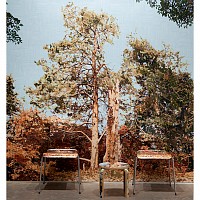 Coined by Gary Carsley as "Draguerreotypes," the artist's photographic monoprints digitally replicate images of important international parks utilizing a palette of faux wood grain motifs. Exhibiting internationally, Carsley has recent had solo shows at:The Institute of Modern Art, Brisbane, Australia; The Visual Arts Center, Summit, NJ; Margaret Thatcher Projects, New York, NY and TORCH Gallery, Amsterdam. Major public commissions include Orchard Central, Singapore 2009, The Sullivan & Cromwell Building, New York 2010 and the Queen Elizabeth II Jubilee Hospital, Brisbane 2013.

Works by Gary Carsley can be found private collections across the globe and in the permanent collection many public institutions such as: The Stedelijk Museum, Amsterdam; The National Gallery of Victoria, Melbourne and The Australian National Gallery, Canberra. Carsley is currently a College of Fine Arts part-time lecturer at the University of South Wales and a highly published independent writer.

__________


Education

MFA, College of Fine Arts at University of New South Wales, Sydney, Australia
Lives and works in Sydney, Australia

Solo Exhibitions (Since 1995)

2017
The Future of The Past, Galerie Pompom, Sydney, Australia
2016
Scenes from the Life of Paris, H Gallery, Bangkok, Thailand

2015
The Garden of Dr. Confabulator, Visual Arts Center of New Jersey, Summit, NJ
For and Against Nature, Grey Projects, Tiong Bahru, Singapore

2014
The Disobedient Mirror, MOP Projects, Sydney, Austraila
Gary Carsley:Sciencefictive, Institute of Modern Art, Brisbane, Austraila

2013
A Tree Struck by Lightening, Special installation at Margaret Thatcher Projects, New York, NY

2012
Gardenesque, Torch Gallery, Amsterdam, The Netherlands
Gary Carsley: Sub/Dub, Breenspace, Sydney, Australia

2011
The Garden of the Forking Paths, Galerie Sabine Schmidt, Cologne, Germany
Display Sweet, MOP, Sydney & Brisbane Homeshow (offsite project Griffith University Art Gallery), Australia
Gardenesque, C.A.C.S.A. Adelaide, Australia

2010
fiction_non_fiction, Margaret Thatcher Projects, New York, NY
A Bush Knot, Griffith Artworks, Griffith University, Brisbane, Australia

2009
Bark Art, Breenspace, Sydney, Australia

2008
You are Here - Central Park Draguerreotypes D.70-76, Margaret Thatcher Projects, New York, NY

2007
Scenic Root, Art Gallery of New South Wales, Australia

2006
Looking at Works of Art in the Light of Other Works of Art, Artspace, Sydney, Australia

2005
Making the third cup of tea from one tea bag, Sabine Schmidt Galerie, Koln, Germany
Chemical Blonde, TORCH Gallery, Amsterdam, The Netherlands
Skirting the Issue, The Cross Art Projects, Sydney, Australia

2004
Ich kann den Wald vor lauter Hols nicht sehen, Ruhrlandmuseum Essen, Germany

2003
Draguerreotypes, ArtKitchen Gallery, Amsterdam, The Netherlands
EnTropical, Institute of Modern Art, Brisbane Australia

2002
Draagbaar Belvedere, M.A.F., Amsterdam, The Netherlands
Trompe L'oeil, Roslyn Oxley9 Gallery, Sydney, Australia
Society4Beautification, Bedrijfsresturant van de Nederlandsche Bank, Amsterdam, The Netherlands

2001
UnReal Estate Germany, Horst Schuler Gallery, Dusseldorf, Germany
A Photocopy Zip2Gether Triumphal Arch, Museum of Sydney, Australia
Building The Ideal Homo, Performance Space, Sydney, Australia
Inverted Belvedere, Artspace Offsite project, Taylor Square, Sydney, Australia

2000
UnReal Estate, ArtKitchen Gallery, Amsterdam and The Brisbane City Gallery, Brisbane, Queensland Australia

1999
Casuarina Hunting Lodge, Artspace, Sydney (With Rafael von Uslar and Grahame Rowe), Australia

1997
The Memorial Project, Roslyn Oxley Gallery, Sydney (With Peter Todd), Australia

1996
Villa Manus, The Lewers Bequest and Penrith Regional Gallery, New South Wales Australia
Ah Men, Artspace Witzenhausen, Amsterdam, The Netherlands

1995
The Persistence of Memory, Stelling Projects, Leiden
Selected Group Exhibitions (Since 1995)

2017
The National New Australian Art, The Museum of Contemporary Art Australia, Australia
Aura: Repetition, Reproduction and the Mark of the Artist, Manly Museum and Art Gallery and The Australian National University Art Gallery, Canberra, Australia
The Unflinching Gaze: photo media & the male Figure, BRAG Bathurst, Australia
Alternative Perspectives, Margaret Thatcher Projects, New York, NY

2015
Hotspots, Margaret Thatcher Projects, New York, NY

2014
It's Timely, Blacktown Arts Centre, Blacktown New South Wales, Australia

2013
Logical Expressions and Variations, Margaret Thatcher Projects, New York, NY
Against the Grain, Museum of Arts and Design, New York, NY
New Year 2013, Margaret Thatcher Projects, New York, NY

2012
Trending Towards the Untamed: Artists Respond to the Wild Garden, Glyndor Gallery at Wave Hill, Bronx, NY
Lie of the Land, Australian Embassy Washington, DC
There Was A World Once, Märkisches Museum, Witten. Germany
Swedish for Argument, University of Technology Gallery, Sydney, Australia
Against The Grain, The Mint Museum, Charlotte. NC

2011
Interior Motives, Griffith University Art Gallery, Brisbane, Australia

2010
From Sea to Shining Sea, Margaret Thatcher Projects, New York, NY

2009
Sunny Side Up, Margaret Thatcher Projects, New York, NY

2008
Re-Mix, Margaret Thatcher Projects, New York, NY
Lines in the Sand, Hazelhurst Regional Gallery, New South Wales, Australia
Intrude – Art & Life 366, Zendai MoMA, Shanghai, China

2007
Perfect for every occasion – Photography Now, Heidi Museum of Modern Art, Melbourne, Australia

2006
Ten(d)ancy, Elizabeth Bay House, Sydney, Australia

2005
Surfaces Paradise, Museum voor Moderne Kunst Arnhem
Countenance, WurttembergischerKunstverein Stuttgart, Germany

2004
Migrating Identity, Arti et Amitaci, Amsterdam, The Netherlands
Was ist deutsch?, Ich geriet vor dieser Frage in immer groessere Verwirrung, Praxis, Bayreuth

2003
Hung Drawn and Quartered, Tin Sheds Gallery, University of Sydney Homostrata, Artspace, Adelaide, Australia

2001
Box, Wren Gallery, Sydney, Australia
Wallpaper, Powerhouse Gallery, Brisbane, Australia
Kunstrai, Amsterdam, The Netherlands

2000
Blondies and Brownies, TORCH Gallery, Amsterdam, The Netherlands

1999
Kunstrai, Amsterdam, The Netherlands

1998
Edifying Sappho and Socrates, TORCH Gallery, Amsterdam, and The Darlinghurst Community Health Centre, Sydney, Australia
Traffic of Night In Paradise, Vleeshuis Amerika, Amsterdam
Cool II, Boterhal te Hoorn, The Netherlands

1997
Art In Chains, Chains, Koln. Germany
Cool Art, Art Kitchen, Amsterdam, The Netherlands

1995
Un-Frieden, sabotage von wirklichkeiten, Kunstverein Hamburg, German
Selected Bibliography

2014
Farley, Gina, "Carsley turns a Moongate into an aperture of illusion," Visual Arts Hub, May 26
Frost, Andrew, "It's Timely Review: Australia's Long Lost Radicalism Revisited," The Guardian, May 2
Laing, Madeleine, "Gary Carsley, Sciencefictive," TheThousands.au, June
McAtee, Harriet, "Review: Gary Carsley: Sciencefictive," ArtAndAustralia.com, June
Wittmann, Jade, "Timely to Recall Whitlam's Blacktown Legacy," Blacktown Sun, May 20
Wolff, Sharne, "REVIEW: Gary Carsley – Sciencefictive, Raven, June 12

Public Commissions

2018
D.116 Botanica Regionem - The National Gallery of Singapore. Immersive Site specific installation (approximately 200 square meters) for the staircase of The National Gallery of Singapore

2012
D.101 Toohey's Forrest, Queen Elizabeth II Hospital Public Art Commission. Inside and outside artwork embodying a whole of building approach – including public art, furniture and signage. Client: Departments of Public Works and Health (Queensland Government) Hames Sharley (Architects)

2009
D.87 Battery Park , A wrap around panorama applied directly to the curved foyer wall of 4 Broad St, Manhattan. Architects Loffredo Brooks Architects P.C. 239 cms x 900 cms

D.88 Istana Park Orchard Central, Singapore in collaboration with DPArchitects and developers The Far East Organisation. A 3-storey, 250sqm integrated artwork at the entrance of the shopping mall

2007
D.51 Parramatta Park, The Justice Precinct, Parramatta, Sydney, in collaboration with Bate Smart Architects. A 23 x 7m integrated artwork in the foyer of the Trial Courts Parramatta. Construction by Multiplex

Public Collections
Harvard Business School Schwartz Art Collection, Cambridge, Massachusetts
Het Valkhof Museum, Nijmegen, Netherlands
The Museum of Contemporary Art Australia, MCA, Sydney, Australia
Bathurst Regional Art Gallery (B.R.A.G.), Bathurst, Australia
Griffith University Art Museum (G.U.A.M.), Brisbane, Australia
Stedelijk Museum, Amsterdam
The National Gallery of Victoria, Melbourne
Het Museum voor Moderne Kunst, Arnhem
The Australian National Gallery, Canberra
Peter Stuyvesant Foundation, Amsterdam
Corporate and university collections in the United States, Britain and Australia Private collections in United States, Britain, Australia, Japan, Switzerland, Brazil, Spain, Germany, France, The Netherlands, Belgium, Siam and India.
Curatorial and Publishing Projects

2016 & 2017
The Mnemonic Mirror. UTS Art Gallery, Sydney & G.U.A.M. Brisbane

2017 & 2018
Leigh Bowery:The Serpentine Performance. 112 Berlin

2014
It's Timely, Blacktown Art Centre, Blacktown, New South Wales, Austraila

2006
Guest Editor Photfile Issue No. 77 (better than) The Real Thing

2004
Take A Bowery, Museum of Contemporary Art, Sydney

2003
Parthenogenesis, Ivan Dougherty Gallery, Sydney

2002
Cerebellum, The Performance Space, Sydney