PRESS RELEASE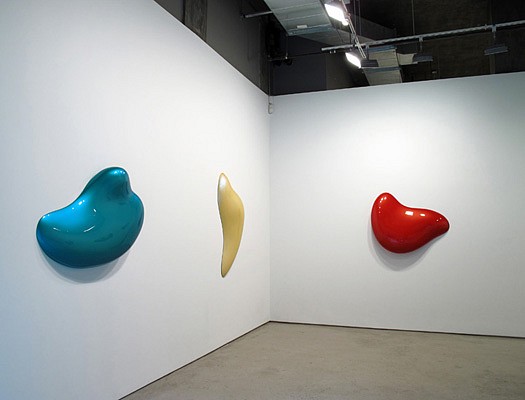 The wall sculptures that constitute Swell, Bill Thompson's second solo exhibition at Thatcher Projects, reflect and absorb, shifting and growing as one moves around them. Solid objects not content with being static, their gleaming, pearlescent surfaces absorb the room they inhabit, reflecting back the space in their warped, monochromatic surfaces. The installation provides the viewer a unique, visual experience of mutating form and color as one moves about.

Bill Thompson's elaborate process begins with a flat shape drawn directly onto a rigid polyurethane block. The drawing is refined and later transformed with saws, grinders and sanders, into a 3-dimensional object. Thompson hand-finishes and coats each in custom mixed automotive paints, spraying multiple coats of primer, color, and clear urethane. Each finished piece requires fifteen to twenty coats. His personal involvement in the entire process and creation of these works elevate them to elegant objects that look neither hand nor machine made, but rather, are subtle entities in their own right.

Committed to "finding the most reductive manner in which to make a visual statement", works such as Matador, Corpus and Creeperbuild upon Bill Thompson's earlier pieces with a full embrace of forms that are sculpted and organic. In these newest works, Thompson creates sheer edges that tightly hug the wall, and emerge from it, their reflective, richly colored surfaces radiating seductively.

Bill Thompson was born in Ipswich, MA, and currently lives and works in Boston, MA. His works have been widely exhibited nationally and internationally at institutions such as the Museum of Fine Arts, Boston; the Institute for Contemporary Art at MECA, Portland; the List Visual Art Center, M.I.T, Cambridge; The New York Public Library; and the Song-Eun Art and Cultural Foundation, Korea, among others. Thompson's exhibitions have been reviewed in Art in America, The Korea Times and Art.es, among others. This exhibition has been selected by Modern Painters as one of the 100 Fall Shows to See Around the World.