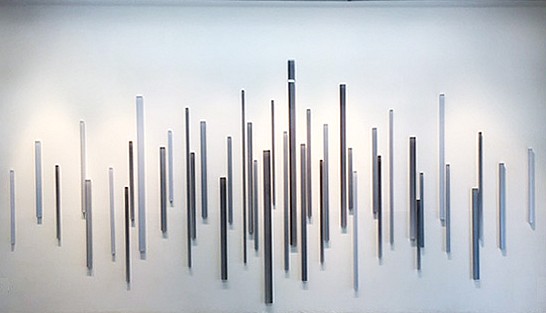 Freddy Chandra on view at Walter Maciel Gallery
July 7, 2018
Freddy Chandra: In Open Spaces
7 July – 17 August 2018
Walter Maciel Gallery is pleased to present In Open Spaces by Freddy Chandra. The exhibition marks Chandra's fourth solo show with the gallery and will include his signature light reactive works made out of painted transparent acrylic bars.
Chandra's new work is a direct reflection of his current experience living in a rural landscape in the Northeast. Last year he relocated from his loft in urban Oakland in the Bay Area to a large eighteenth century farmhouse in Western Massachusetts. Continuing with a similar format of configuring narrow panels of plexiglass glazed in airbrushed pigments and resin, the latest wall installations shift from tightly positioned bars with slender breaks to groupings of panels intentionally separated by larger gaps referencing the openness of his new rustic environment. Chandra forces the viewer to step back from the work and observe each component combined in relationship to the overall visual field of the piece in both vertical and horizontal formats. Seasonal progressions and their attendant shifts in light, matter, air, temperature and life forms are chronicled in lyrical systems of translucence with a focus on gradation from light to shadow and iridescent shimmers. This phenomenon is evident in the piece Apparition with several vertical panels in shifting values of light and dark across a corner of the gallery. The panels cascade on either wall at varying heights with specific groupings placed closely together separated by larger widths to create a cohesive visual rhythm much like enlarged musical notes or Morse code.
Departing from the chromatic intensity of previous works, colors are largely hinted at among the multitude of grays and pearlescent silvers. The overall palettes are muted and subdued to create a softer presence that reacts to artificial and natural light. Rooted in approaches to Modernist abstraction, each configuration produces a rhythmic sway and spatial fluctuation based on their dimensionality, colors and interaction with light that evoke the temporal nature of the moving image. These works float on the walls mimicking the change in daily atmospheric manifestations within the surrounding lush expanse. The series was conceived in the depths of New England winter where the whiteness of snow and the quiet hum of the gray landscape dominated, until the gradual reemergence of colors in space signaled the arrival of spring. On a more personal level, Chandra's experience has been a re-calibration period where resonant solitude can take precedence over the seemingly endless cacophony of life, perhaps in direct correlation with our current chaotic social and political climate teetering on the verge of collapse. These process-based works aim to offer a momentary refuge in beauty.
Chandra received his MFA in Studio Art from Mills College in Oakland, where he subsequently taught as an adjunct professor for several years, and his BA in Architecture and Art Practice from the University of California, Berkeley. He was awarded a Joan Mitchell Foundation Painters and Sculptors Grant in 2009; was Artist-in-Residence at the Headlands Center for the Arts in 2007, and at the Djerassi Resident Artist Program in 2009. Chandra has had solo gallery exhibitions in Milan, Dusseldorf, New York and San Francisco. He has been commissioned by the Art in Embassies Program for the American Consulate in Surabaya, Indonesia, and by the Neiman Marcus Department Store in Walnut Creek, CA. He has also completed several private commissions and is included in many prominent collections internationally.
Back to News